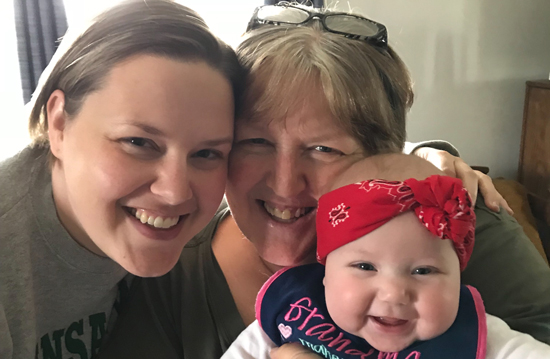 Connie Skalberg is thankful for a new type of surgery that means less time recovering. Over a year ago, Skalberg barely survived a car accident near Oakland, Iowa. Her husband passed out while driving their truck, which was pulling a tractor behind them. Their truck veered off the road into a ditch, through a field and stopped suspended over a creek.
Skalberg arrived at the Nebraska Medical Center Trauma Center with multiple rib fractures, a large sternum fracture, broken bones in one of her legs, herniated lungs, a brain hemorrhage and multiple spinal fractures. Trauma surgeon Zachary Bauman, DO, MHA, immediately began life-saving measures. Several days after she stabilized, Dr. Bauman performed rib and sternal fracture surgery. Her husband, Leslie, was treated for his injuries at a local community hospital.
The rib fixation surgery involves making a small incision near the rib fractures. After splitting the muscles covering the ribs, the fractured ribs are then realigned and screwed in place with titanium plates. To reduce pain, the nerves under the ribs are frozen during surgery using a technique called cryoablation. The sternal fixation procedure is similar. Surgeons insert a titanium plate that stabilizes and holds the sternal fracture in place.
These rib and sternal fracture surgeries speed recovery by increasing mobility, minimizing pain, reducing narcotics use and lowering mortality. "Patients are often ready to go home the following day," Dr. Bauman says. "The sooner we can get to these patients and perform rib or sternal fracture surgery, the better outcomes they will generally have and the less likely they will be to require a prolonged ventilator or develop pneumonia."
"I remember my chest was in excruciating pain at the time of the accident," says Skalberg, who was 63 at the time. "I don't remember a lot in between, but I do remember waking up from surgery, and my chest pain was gone. I can't thank Dr. Bauman enough. He saved my life."
"Connie had significant damage," Dr. Bauman says. "Had she not gotten this surgery, I don't think she would have come off the ventilator in a timely fashion and would have ended up with a tracheostomy tube and likely needing to go to a long-term care facility for an extended period of time. I was extremely impressed with her quick recovery after experiencing so much chest wall damage, especially given her age."
"This procedure is really beginning to take off in this country and around the world," Dr. Bauman says. "We are continually making improvements, including the ability to make smaller incisions.