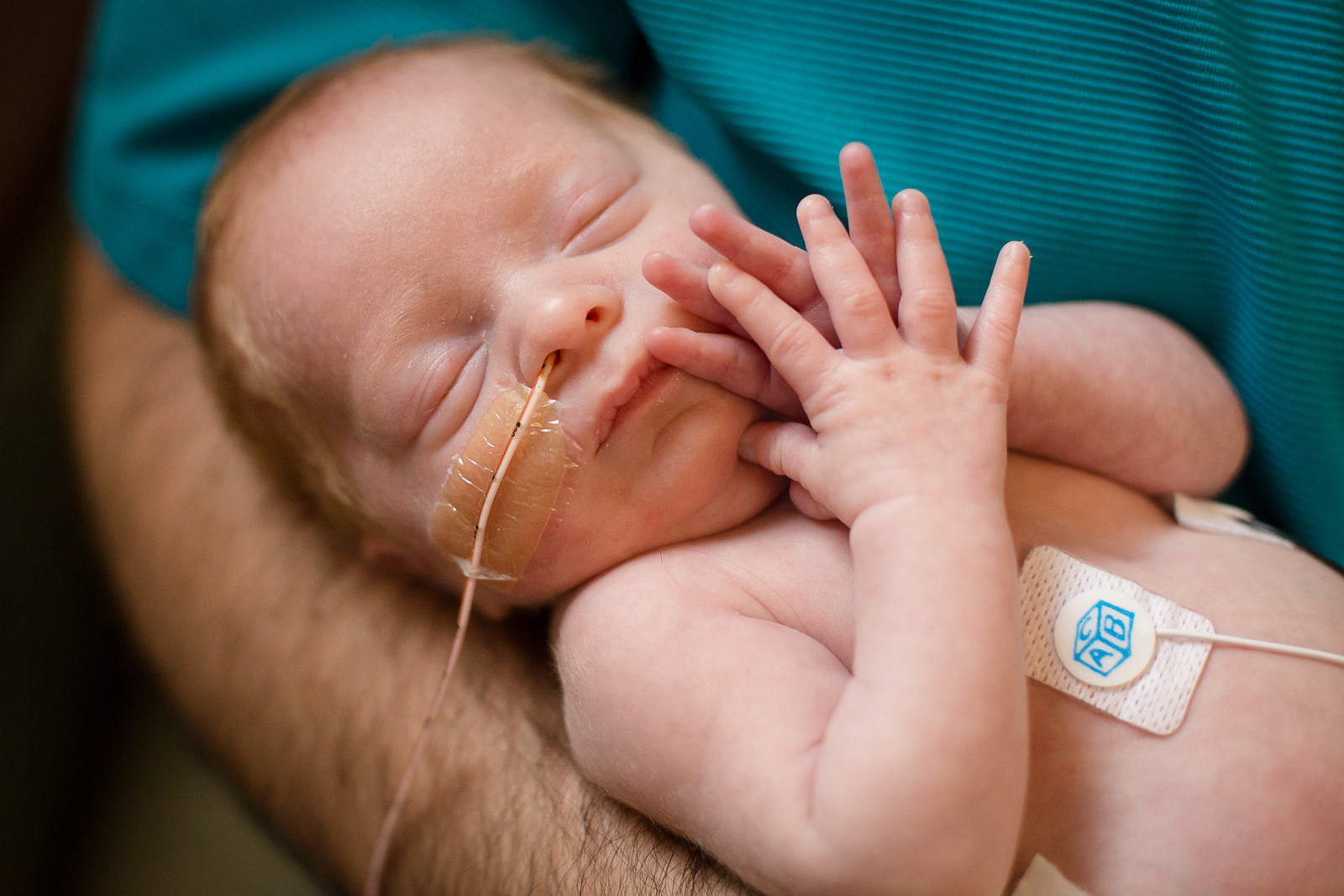 Our NICU journey at Nebraska Medicine began on April 23, 2017, when our first born, Banner, made his abrupt entrance into the world two months before his due date. He was only 31 weeks gestation and I was diagnosed with preeclampsia resulting in an emergency C-section. Thankfully, my doctor caught it just in time and I was able to get the two needed doses of a steroid that would accelerate organ production in Banner and greatly improve his survival rate. Banner was born weighing 2 pounds, 8 ounces.
I remember my first trip over to the Newborn Intensive Care Unit (NICU) from Labor and Delivery like it was yesterday. My nurse wheeled me over and checked me in, "I have Mom here for Banner," she said. We then proceeded through the doors and down a long hallway filled with success stories of babies born prematurely, some born even smaller and earlier than Banner. These stories were a big reassurance for us during such a scary and unfamiliar time.
Once we got to Banner's room, he was in an isolette, or incubator, with cords everywhere. He had a feeding tube in his mouth, IVs coming out of his belly button, a CPAP mask over his whole head, and oxygen. It was pretty hard to see, but his nurse, Blaire, explained all the equipment and gave us an update on how he was doing and what we could expect throughout his NICU stay.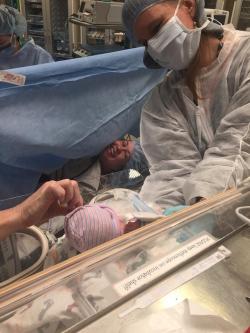 It was just about time for his "cares," and since we were there, we were able to get pretty hands on. Cares were done every 3-4 hours, during this time we would check his temperature, change his diaper, move his oximeter from one foot to the other, check his blood pressure, skin-to-skin or "kangaroo care," rotate which way he laid, and in the evenings, weigh him. They limit these cares to every 3-4 hours as to not over-stimulate the baby, since he would still be in the womb. They also encouraged the parents to perform the cares, which helped us really feel like his parents.
We tried to be there every time they did his cares through his six weeks in the NICU - it was something we could always look forward to. Once the cares were complete I was able to hold him for the first time. This was still a bit scary to me - he was hooked up to so many machines and at only 2.5 pounds, I was nervous. Blaire let Eric hand him to me while she handled the cords and we had our first skin-to-skin moment. As I held him on my chest his breathing improved and I could see how beneficial this was to not only to Banner, but to me as well.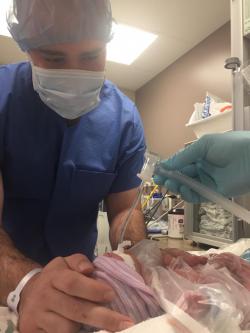 The NICU and March of Dimes encouraged kangaroo care as often as the baby could handle it. Some days we would do kangaroo care from one care to the next, 3-4 hours worth. Cherish those moments and know it will help your baby, and you, tremendously.
After a few days had passed it was time for me to be discharged. We had to go home without our baby. I don't think I can explain that pain to anyone who hasn't lived it. Thankfully, I was able to be there all day, most days. The days I couldn't be there, though, I felt guilty. The nurses reminded me that I too was healing and I needed to be healthy for when we could bring Banner home. Although it was easier said than done, I made sure to take time for me and get my rest when I could. It helped knowing Banner was in the best hands.
Banner progressed well throughout his six weeks in the NICU and we learned so much from his nurses. Every little progression was a victory. First they removed his CPAP mask, then from oxygen he went down to room air. Gradually he had less equipment and cords. Kangaroo cares became easier and before we knew it he was keeping his temperature up and ready to wear clothes. From there he graduated from the isolette to the crib and day-by-day we were closer and closer to bringing our baby home.
These six weeks were trying, but everyone from the nurses and doctors to the lactation consultants and respiratory team, showed us time and time again that they truly loved our son. One nurse, Sarah, had made a few scrapbook pages to decorate his room. They were green for The Hulk and had Banner's "Hulk hands" and footprints, along with pictures she took the night before. Another day we came in and saw a sticky note on his oxygen meter reading: "Banner 'THE HULK' Gleason." Not only was he our little hero, he was theirs too.
The NICU is an emotional rollercoaster for any parent so my advice to those new and future NICU parents is to cherish every day, take as many photos as you can, journal every little thing, and celebrate every milestone as a victory.