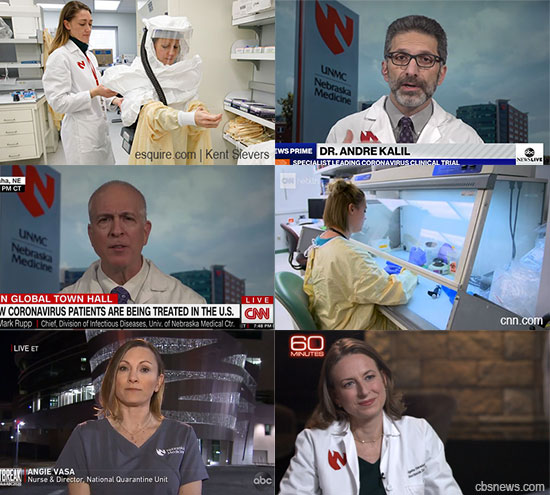 During the last few weeks media outlets from across the world have flocked to UNMC/Nebraska Medicine to discuss the new coronavirus, which causes the COVID-19 disease.
As the New York Times recently explained, UNMC/Nebraska Medicine opted to build a secure treatment center following Sept. 11, 2001.
We designed it to be a defense against bioterrorism and infectious diseases. Our Biocontainment Unit first grabbed national attention during the 2014 Ebola outbreak.
Since then, we've led the world in treatment, training and quarantine methods. 
The media coverage began Feb. 27, when we held a webinar to help health care workers prepare for the pandemic. The webinar was popular, and thrust us into the national eye. Following that webinar, we've been publishing information for health care workers on a daily basis. 
We're also in the midst of a COVID-19 clinical trial, as Angela Hewlett, MD, discussed in this 60 Minutes piece. 
And most recently, the New York Times wrote about the process we created to decontaminate protective N95 respirator masks so they could be reused.
We've taken the time to spread the word because we hope it will save lives. 
Below is a curated list of some of the stories our colleagues have been featured in:
60 Minutes
In clinical trials and laboratories, the hunt is on to find vaccines and drugs to treat, prevent novel coronavirus. Read the story
ABC News
What it's like inside Nebraska hospital where coronavirus patients are treated. Read the story
Angie Vasa is one of the nurses treating Americans evacuated from the Diamond Princess cruise ship to a facility in Nebraska. Watch the video
CNN
Esquire
Inside the National Quarantine Center, There is no fear of coronavirus. There Is only urgency. Read the story​​
Fox
Dr. Marc Siegel and Charles Couger: On frontline of coronavirus fight, University of Nebraska plays key role. Read the story
New York Times
First Ebola, Now Coronavirus. Why an Omaha hospital gets the toughest cases. Read the story
A Nebraska hospital aimed to contain the virus. But it had already spread. Read the story
As Coronavirus looms, mask shortage gives rise to promising approach. Read the story