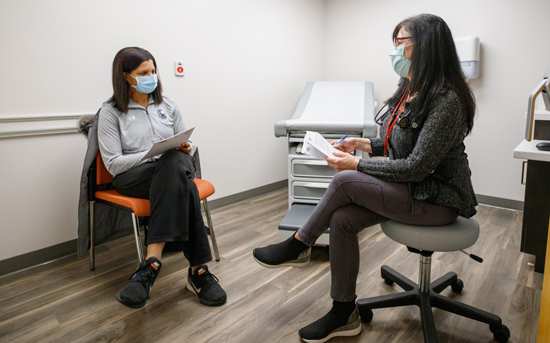 The results are in – Novavax is another highly effective COVID-19 vaccine. Infectious diseases expert Diana Florescu, MD, led the phase 3 clinical trial of the Novavax vaccine at the University of Nebraska Medical Center (UNMC). "It's rewarding to help the development of a new vaccine," she says. "The research group was excited to bring this study to our community to help curb the pandemic."
Results of the clinical trial
93% effective against predominantly circulating variants: Against the alpha (B.1.1.7) and beta (B.1.351) variants, plus other variants of concern/variants of interest, Novavax had 93% efficacy. The Novavax vaccine had 100% efficacy against the original SARS-CoV-2 strain.
Very good protection against mild disease: Novavax's overall vaccine efficacy was 90.4%. All cases in the vaccine group were mild.
Full protection against severe disease: The Novavax vaccine had 100% efficacy against moderate and severe disease.
Side effects
Common side effects were injection site pain and tenderness, fatigue, headache and muscle pain. These typically lasted less than three days.
Who was in the clinical trial?
Over 29,000 people participated in the trial. UNMC was one of 113 sites in the United States. "We're grateful to all participants for their help," says Dr. Florescu. "Major medical breakthroughs could not happen without the generosity of the trial participants."
"People were so enthusiastic to participate," says Dr. Florescu. "One family included every family member in the trial. Grandparents, parents and children – all three generations – took part in it." Thirteen percent were older than 65, a high-risk age group for severe COVID-19.
The trial also included people from multiple backgrounds:
20% Latino/Latina
12% African American
7% Native American
5% Asian American