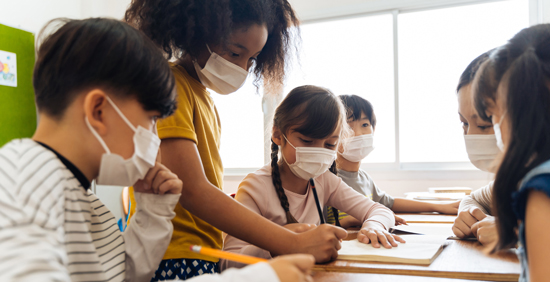 With the school year approaching, safety is top of mind for parents and teachers.
The American Academy of Pediatrics (AAP) revised its guidance for schools in the fall. They advocate vaccination when people are eligible, as well as a strong preference for in-person learning as educational disparities worsened during the pandemic. 
AAP and the Centers for Disease Control and Prevention (CDC) recommend that everyone over the age of 2 – regardless of vaccination status – wear masks in school. There are three reasons why everyone should mask up:
Children younger than 12 are not eligible for vaccination yet.
It's difficult for school districts to reliably track who has been vaccinated.
Masking helps prevent seasonal respiratory infections, as seen by reduced influenza rates last season.
Kari Simonsen, MD, chair of the UNMC Department of Pediatrics, is a pediatrician who specializes in infectious diseases. Dr. Simonsen says that wearing masks in schools will help curb the spread of COVID-19. "AAP is recommending that we keep masks on in schools to keep people healthy, safe and learning."
Infections in kids are rising
Throughout the pandemic, children have represented about 14% of COVID-19 infections. Now, as adults have been eligible for vaccination, 19% of infections are among kids. 
"One of the interesting things that is happening locally and across the nation is that we are seeing more of these seasonal respiratory viruses pop up now that we've stopped wearing masks," says Dr. Simonsen. "Douglas County, for example, is reporting a greater than 10% positivity rate for RSV. We almost never see RSV in the summertime." 
Recommendations for schools
More infectious variants like delta are causing an increase in COVID-19 cases. Yet in-school learning is important. To keep schools open, we need to use all the tools that we know work to fight COVID-19.
Everyone in schools, including vaccinated individuals, should wear masks
Anyone who can get the COVID-19 vaccine (ages 12 and up) should get vaccinated
School surveillance and testing programs should track and report COVID-19 cases
Students, teachers and staff should stay home when they have any signs of illness 
Frequent hand-washing and disinfecting high-touch surfaces help prevent the spread of any infectious disease, including COVID-19 and influenza
Staff should enhance building ventilation and take activities outdoors when possible
Get additional guidance in the COVID-19 Back to School Playbook from the University of Nebraska Medical Center College of Public Health.