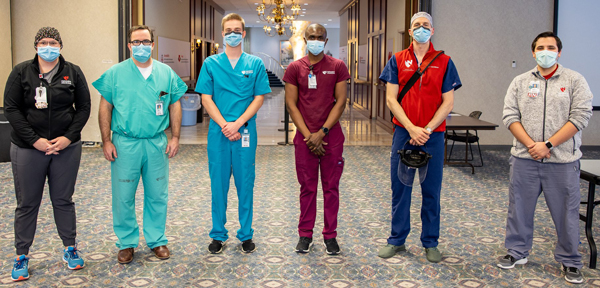 On Tuesday, Dec. 15, we vaccinated the first of our health care workers. It was an emotional day of hope and gratitude. In their own words, see how three Nebraska Medicine employees reacted to the new COVID-19 vaccine – both physically and emotionally.
Respiratory therapist Komi Gbedjeha 
I did not feel anything right after the shot. The site of injection was a little bit sore. I did not feel any side effects since I took the vaccine, and I haven't taken any over-the-counter pain meds.
I feel fantastic, and I am very grateful to be one of the first to get the vaccine. 
COVID-19 unit nurse manager Brandi Johansen, MSN, RN-BC 
Immediately after, I experienced no side effects. A day after, I felt mild pain at the injection site, similar to the flu vaccine. Two days later, I felt completely normal. I didn't take any over-the-counter pain medications either.
I understand the nervousness of health care providers and the public about getting this vaccine, but we have science on our side. A vaccine that's 95% effective is pretty amazing! If we want to get on the other side of this pandemic and get back to "normal life," this is the right thing to do! This is the hope that we needed. I am feeling so optimistic, and I haven't felt that in a really long time!
I received the vaccine on a Tuesday. Immediately after, I felt elated. I was so happy that scientists have found a solution to the COVID-19 disaster. 
The next day, I felt somewhat flushed. My heart rate was slightly elevated at 90 bpm. I had mild muscle aches for a few hours. I was glad that I felt a systemic response because it informed me that my immune system was revved up and creating antibodies to SARS-CoV-2. My deltoid muscle felt very similar to how it feels after the flu vaccine.
Two days later, I felt completely normal.
In my view, you should get vaccinated for COVID-19 for three main reasons. You absolutely do not want to become critically ill with COVID-19. You do not want to wonder whether you transmitted the virus to someone who becomes critically ill from COVID-19. Most importantly, the world needs a critical mass of people to get vaccinated in order to put this nightmare of a pandemic behind us. Thousands of people are dying every day from COVID-19 around the world. By getting vaccinated, you can feel good knowing that you are helping to reduce these deaths and the suffering that comes from them. The life you save might be your own. 
Both of the FDA-approved mRNA vaccines are extremely effective and safe. Get vaccinated for you and get vaccinated for the benefit of others.