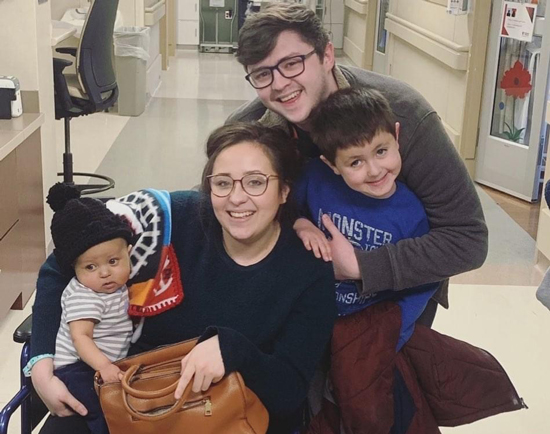 From the time he was born, Ezra Fellers was very sick.
Ezra's family was shocked to learn that he had over 100 hemangiomas on his body – including on his liver. Made of extra blood vessels, a hemangioma is a small tumor. "We didn't know Ezra was sick before he was born. Those first four months, we knew something was wrong, but not what," says Ezra's mother, Serena.
Ezra's liver kept getting worse and worse despite medicine helping the other small hemangiomas shrink. He spent his entire life sick.
"He would have these terrifying drops in blood sugar," Serena says. "His worst drop was to a blood sugar level of 19 and a temperature of 91. I was so scared that he'd finally have a blood sugar drop so severe it would be the one that takes him away from us before we could get a donor."
The Fellers family lives in Topeka, Kansas. A few months after Ezra's birth, they traveled to Omaha, Nebraska, for a full medical evaluation at Nebraska Medical Center. They were only supposed to be in Omaha for two days, but the evaluation revealed Ezra's high-risk situation. 
"They told us right away that we weren't able to leave, because Ezra was so sick," says Serena. "He was put at the top of the transplant list the next day." Ezra was just one day shy of five months old the day he was listed for his liver transplant.
Amid unexpected news, the Fellers family found support in another family who had experienced their own pediatric liver transplant. Serena says, "Jennifer Timperley was a huge support to us. The first night we were there, she brought us food and things we had forgotten at home. She walked us through what to expect as parents post-transplant."
Just three days later, Ezra had a new liver. Transplant surgeon Wendy Grant, MD, was Ezra's surgeon. "Dr. Grant was super kind," says Serena. "We'll have a picture that we'll always keep of her coming out and telling us personally that Ezra made it through the surgery OK. It was a great moment."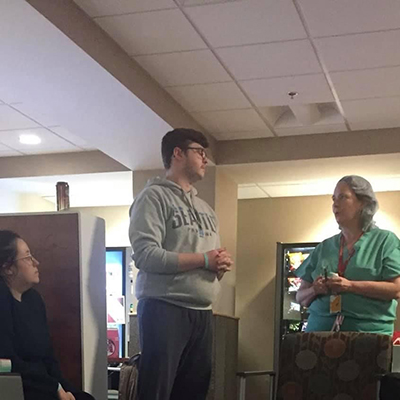 Ezra got his transplant on Feb. 16, 2020. That was right when COVID-19 began to spread, which was scary as Ezra was immunocompromised. Serena and her husband, Mark, credit their faith for making it through such a difficult time. They took comfort that Ezra had made it so far already. "We knew that God had taken care of us thus far, and we had faith and hoped that it would continue," Serena says.
After Ezra's successful transplant, he had a month of physical therapy and occupational therapy. Serena was thankful for the people providing extraordinary care. "There were so many people at Nebraska Medical Center that we really connected with," she says. 
"We were very thankful to Child Life Services. They helped Ezra get some fun baby time in. They also ensured my other son, Anthony, was having some normalcy in his everyday routine, too."
Since then, Ezra has become very active and loves playing with his older brother, reading books and going outside to play.
"Ezra is silly, caring and mischievous," Serena says. "He is our little wild child."
After the transplant, Serena says her family enjoys a sense of normalcy. Ezra is now 18 months old.
"He's not in pain this year. We're not cooped up in a hospital," says Serena. 
"He's not getting pokes every single day. We are home, we are healthy, we are safe, and importantly, we are together. And that just means everything to my family."
Serena is a big advocate for organ donation. "I would encourage everyone to look at the statistics and how needed organ donations are. Signing up is such an easy, selfless thing that we can all do," she says.
Serena added that she and her family think of Ezra's donor every day. She doesn't know who the donor was, only that the donor was a baby.
"This donor changed our lives forever," Serena says. "This donor's family impacted our life by giving us such a selfless gift. They made a decision, at the absolute hardest time in their lives, to save our son.
"Out of their grief, their sorrow, their pain, they managed to think of others. They have given my son opportunities he would not have had. Their gift of life will allow my son to have his first steps, one day his first days of school, to have his first love. They gave us absolutely everything."
Serena also says she knows she will one day be reunited with her son's donor.
"I know one day," Serena says, "when this life is over and we are on to our next, I will see his organ donor there behind the pearly gates, and I'm just going to give them the biggest hug."
You have the power to give life to people just like Ezra. Find out how to become a living donor.
Written in partnership with Live On Nebraska. To learn more about organ donation, visit LiveOnNebraska.org.