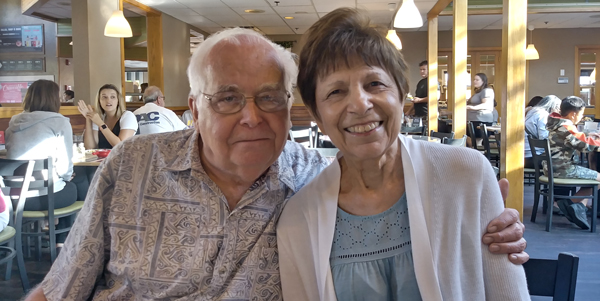 Sallie Pershing, 76, has been an annual donor to the Weigel Williamson Center for Visual Rehabilitation for more than 10 years. Her commitment to the center was recently recognized with a plaque in the lobby of the center dedicated to its most loyal donors.
Pershing has seen first-hand how debilitating low vision can be with some of her closest friends. She has also seen how getting the right help and resources can help people with low vision continue to live life more fully.
Although Pershing lives in Los Angeles, California, she has heard the stories of the center's good work from her daughter, Mary, and son-in-law, John Shepherd, MD, medical director of the Weigel Williamson Center for Visual Rehabilitation.
"Distance prevents me from physically helping at the center, so I do what I can monetarily," says Pershing. "It's very fulfilling to me to know that I'm investing in a good cause that's helping others deal with vision challenges by contributing to John's work and the work of the center."
"My mother-in-law has become one of our strongest advocates," Dr. Shepherd says. "It's donors like her that allow us to continue to grow and reach more people in our community with assistance for low vision.
Dr. Shepherd has been with the center since its inception and considers his work a "calling." But it took some health challenges of his own to discover his true passion in life.
After completing medical school and training, Dr. Shepherd began his practice as a surgical ophthalmologist in Minnesota. A few years into his practice, Dr. Shepherd developed knee and back issues that made it difficult for him to perform surgery. When medical and surgical treatments could not restore his ability to comfortably perform surgical procedures, he made the difficult choice to cease his surgical practice.
"I was going through a major identity crisis," Dr. Shepherd recalls. "I was a trained eye surgeon who couldn't perform surgery. I was also having trouble performing simple tasks at home. My doctors were addressing my knee and back issues, but no one was helping me deal with the personal and professional struggles resulting from my disabilities."
As Dr. Shepherd reluctantly began to transition his practice from surgical ophthalmology to medical ophthalmology, he started to realize the many challenges people with severe vision loss endure in their daily lives. "I realized they were dealing with the same type of personal struggles I had to deal with due to my knee and back issues," explains Dr. Shepherd. "Like many doctors, I was addressing the actual disease, but I wasn't addressing the impairment caused by vision disorders like macular degeneration. I started to ask myself, is there anything else I can do to help them live with this even though I couldn't help them see better. I talked to other doctors who dealt with low vision patients, and that's when it occurred to me that this is what I was meant to do."
Shortly thereafter, Dr. Shepherd visited with some nurses and physicians from the University of Nebraska Medical Center (UNMC) at a conference who said they were looking to develop a low vision center. That's when Dr. Shepherd's new career began to unfold. He came to UNMC in 2007, when he was named medical director of the program.
"It's been an amazing journey and life-transforming," says Dr. Shepherd. "I found an area where there was a void in care, and I've been able to help fill that void based on the trials of dealing with my own health problems."
Since the center opened in 2007, the staff has seen more than 6,000 patients. "There has been a 50% increase in the number of patients we see per year compared to when the center opened," Dr. Shepherd says. The center has also added three satellite clinics in Lincoln and Grand Island, Nebraska, and Sioux City, Iowa.
"As you age, your vision can be so important to your happiness and independence," says Pershing. "When people lose their vision, they become depressed and may begin to give up on life. To be able to enhance a person's life through my donations to the center is a blessing to me."