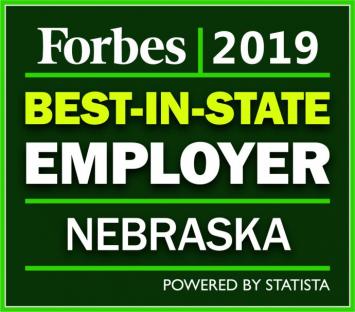 Nebraska Medicine is the best employer in Nebraska, according to a recent recognition by Forbes Magazine of the top employers in America. This is the first time Forbes has ranked the country's best employers by state.
"This award is recognition for the culture we want to have at Nebraska Medicine, it is a recognition of all of our colleagues," says CEO James Linder, MD.
The award is the result of an independent survey conducted by Statista, a market research company. The anonymous survey included 80,000 workers who were asked how likely they would be to recommend their employer to others. Respondents could also nominate other organizations outside of their industry.
"I appreciate the great work of our human capital team, but we know that there isn't a single program or employee benefit that leads colleagues to feel this way about where they work," Dr. Linder says. "It's fundamentally the culture that exists among all of the colleagues. Everyone depends on support from their peers, and the opportunity to do the meaningful work of health care. We are all very inspired by what we can accomplish together."
Here is the full list from Forbes.