Nebraska Medicine has been nationally recognized as a Center of Excellence by the National Pancreas Foundation for outstanding clinical care and scientific innovation.
Nebraska Medicine has the only cancer center within a 350-mile radius to have earned combined clinical and academic designations, making it the place to go for pancreatic cancer research and care in the state as well as the region.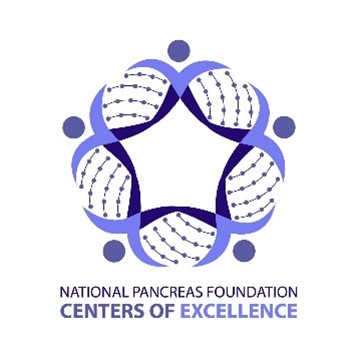 NPF Centers of Excellence are premier health care facilities that focus on the multidisciplinary treatment of pancreas disease, treating the "whole patient" with an emphasis on the best possible outcomes and improved quality of life. The designation is awarded after a rigorous audit review that measures high-quality, highly specialized and multidisciplinary care approaches for the field.
Since 2015 Nebraska Medicine has held a Pancreatic Center of Excellence distinction for pancreatitis. This multidisciplinary interprofessional program typically focuses on benign diseases of the pancreas. This additional National Pancreas Foundation designation now elevates the health system as a leader in all-encompassing pancreatic care.
Nebraska Medicine integrates expert physician specialties, including gastroenterologists, pancreas surgeons, medical oncologists, radiation oncologists and interventional radiologists, along with patient-focused programs such as a pain management, nutritional guidance, genetic counseling, psychosocial support and more.
"We are honored that Nebraska Medicine has been designated as an NPF Center of Excellence for the treatment of pancreatic cancer," says Sunil Hingorani, MD, PhD, director, Pancreatic Cancer Center of Excellence at UNMC and Nebraska Medicine. "This designation recognizes the unparalleled level and breadth of expertise we bring to bear on every patient with this disease, ranging from benign conditions such as pancreatitis and cystic neoplasms to invasive carcinomas of the gland. The award acknowledges and further distinguishes our institution as one whose focus is on providing the best and most innovative care possible for all stages of disease."
Dr. Hingorani, a highly accomplished and internationally recognized pancreatic cancer researcher and clinician, joined an established and specialized pancreatic cancer team in what he described as "a unique time in pancreas cancer research and clinical care."
With this latest achievement, Nebraska Medicine and its research partner, UNMC, continue to position themselves as leaders in diagnosing and treating pancreatic cancer, with scientists and physicians working together to develop and test new screening modalities and therapies for pancreatic cancer.