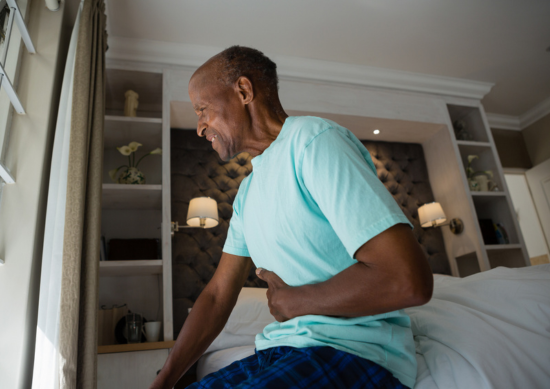 Pancreatic cancer is considered rare, with an estimated 62,210 new cases diagnosed in the U.S. in 2022. Even so, it is the third-leading cause of cancer-related death in the U.S.
Because early pancreatic cancer often does not cause symptoms, it is frequently diagnosed in later stages. Symptoms may include:
Abdominal or back pain
Unexpected weight loss
Jaundice (yellowing of the skin and eyes)
Dark urine and light-colored stools
Fatigue
Factors that may increase your risk for developing pancreatic cancer include:
Obesity
Alcohol use
Smoking
Chronic pancreatitis
Type 2 diabetes
Family History of Pancreatic Cancer
Additionally, around 10% of cancers are caused by genetic conditions, such as Lynch syndrome and the BRCA1 and 2 mutations, according to medical oncologist Kelsey Klute, MD.
"We're constantly learning more about hereditary syndromes," Dr. Klute says. "This is important because it potentially gives us additional targets for therapy, especially as new medicines and treatments are being discovered and approved."
Improvements in treatment
The treatments for pancreatic cancer include:
Drugs (chemotherapy)
Surgery
Radiation therapy
Advances in treatment, such as multi-agent chemotherapies, have helped improve the prognoses for pancreatic cancer patients. The five-year survival rate for pancreatic cancer increased from 5% in 2000 to 11.5% in 2018.
"We've doubled the survival rate,  which is welcome progress," says surgical oncologist Bradley Reames, MD, MS. "At the same time, it is still woefully low. It's a great relative increase, but still poor overall, so there's a lot more work to be done for scientists and providers to improve it even more."
A comprehensive approach
Nebraska Medicine has recently been nationally recognized as a Center of Excellence by the National Pancreas Foundation for outstanding clinical care and scientific innovation.
Nebraska Medicine has the only cancer center within a 350-mile radius to have earned combined clinical and academic designations, making it the place to go for pancreatic cancer research and care in the state as well as the region.
The pancreatic cancer center integrates expert physician specialties, including gastroenterologists, pancreas surgeons, medical oncologists, radiation oncologists and interventional radiologists, along with patient-focused programs such as a pain management service, nutritional guidance, genetic counseling, psychosocial support and more.
"A patient who is evaluated at our center will have a comprehensive evaluation and meet all of the specialists they'll need over the course of their therapy, all in a single day," Dr. Reames says. "They'll receive a treatment plan that focuses not only on their cancer therapies and physical symptoms but also their emotional well-being."
To schedule an appointment with a Nebraska Medicine pancreatic cancer specialist, call 844.CUR.PANC.