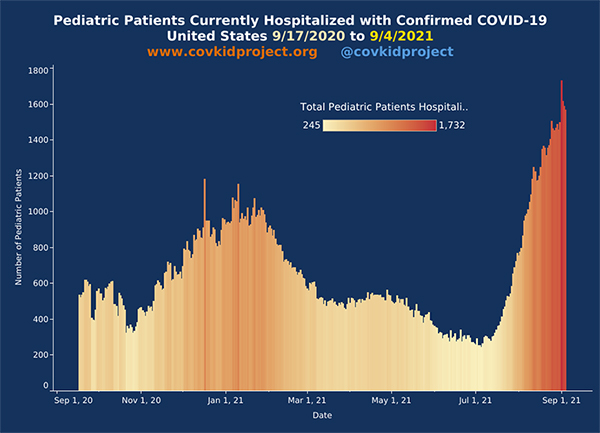 The delta variant is hospitalizing more children than previous waves of COVID-19. "Unfortunately, we are seeing an increase of pediatric COVID-19 cases in our community and our state," says pediatric infectious diseases expert Kari Simonsen, MD. "There's an upward trend of children in the hospital with COVID-19." As of this writing, there are six children hospitalized with COVID-19 at Children's Hospital & Medical Center.
Why are hospitalizations rising? Case rates in children are much higher now
Children are going to the hospital more because of extremely high community transmission. Many of the adults in these communities are protected by vaccinations. Many children are not. That leaves children more susceptible to COVID-19 infection.
•    26.8% of U.S. COVID-19 cases are children
•    250,000+ child COVID-19 cases were reported last week
•    Over 19,940 U.S. children have been hospitalized for COVID-19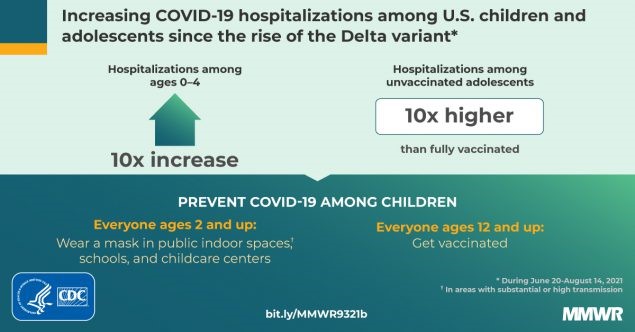 Why are infection rates so high? 
The delta variant is much more transmissible than previous variants. "With the delta variant, each sick person infects five to six people around them," explains Dr. Simonsen. "Previous versions of COVID-19 infected only two to three people."
In one example of delta's contagiousness, one unvaccinated teacher infected 12 of 24 students in her classroom. All of the children were too young to be vaccinated. 
Delta is dominating the country, which illustrates how easily it spreads compared to other COVID-19 variants. As of this writing, 99% of COVID-19 cases are the delta variant.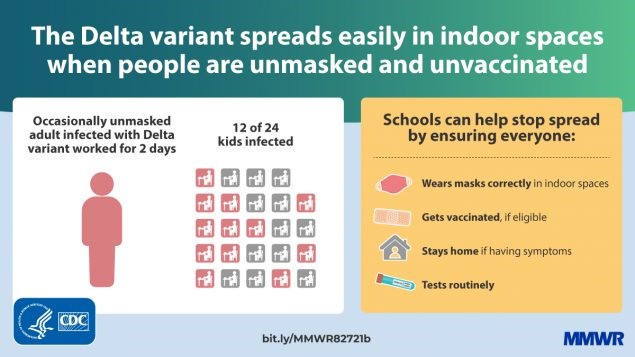 The increased community rates of COVID-19 are really affecting children – especially those younger than 12 who aren't vaccinated yet. A COVID-19 vaccine emergency use authorization for children ages 5 to 11 is expected sometime this fall. 
How to prevent further hospitalizations
There's a concept in pediatrics called cocooning. If your child is susceptible to a disease, you can:
•    Surround your unvaccinated child with vaccinated adults
•    Ask others to wear masks when around your child
•    Meet outdoors where there's better ventilation
"Masks are just one strategy among many," says Dr. Simonsen. "The more strategies we employ together, the stronger the impact." 
If you haven't been vaccinated yet, please reconsider. Pediatric hospitalizations are four times higher in states with low levels of vaccination. Your vaccine protects the children in your community. You can also get your flu vaccine at the same time as your COVID-19 vaccine.