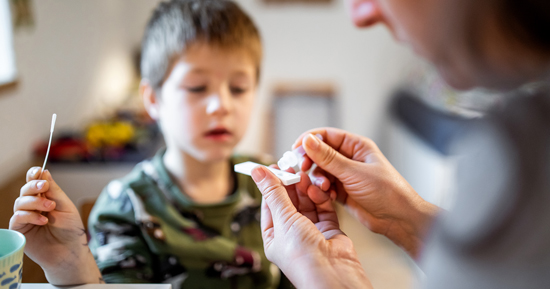 With the school year underway, safety is top of mind for parents and teachers.
Here infectious diseases expert James Lawler, MD, MPH, summarizes the most recent findings of COVID-19 variants. Dr. Lawler is an infectious disease physician and one of the co-executive directors of the Global Center for Health Security at University of Nebraska Medical Center. 
For more detailed information, watch Dr. Lawler explain the latest developments each Tuesday in COVID-19 video updates.
The highlights:
BA.5 is the most transmissible variant to date
School-age children are the most likely of all age groups to get infected by COVID-19 – and spread it to others
The latest variants are causing more reinfections than ever before
What variant are we on?
As of this writing in August, BA.5 is the dominant variant. BA.5 is even more transmissible than previous variants.
BA.5 makes up 88.8% of COVID-19 cases in the U.S. The second most common variant is BA.4, with 5.3% of national cases.
You're best protected when you stay up to date
Schedule your
COVID-19 booster
to get the best protection from variants like BA.5. 
Are variants becoming more mild?
A highly contagious variant – like omicron and now BA.5 – will drive large numbers of cases. If more people get infected with a more contagious variant, hospitalizations still increase. 
"We are seeing lower proportions of cases ending up in the hospital in the last several months. However, most of the difference in hospitalizations and death rates is due to immunity – mostly from vaccination, but partly from previous infection," says Dr. Lawler. "Even if a variant seems mild on an individual level, when you have high rates of infection in the community you will still end up with a large number of folks severely ill in the hospital." 
"Your protection from the vaccine depends quite a bit on how recent your last vaccine dose was," says Dr. Lawler. "We're still seeing good protective effect against hospitalization if you're up to date," says Dr. Lawler. That means if you're eligible for a COVID-19 booster, get one.
With newer variants, vaccine effectiveness seems to go down. And data shows if you're three, four, or five months out from your last dose of vaccine, your vaccine effectiveness is much lower. 
Can you get COVID-19 twice? And which COVID-19 variants are more likely to reinfect?
Yes, it's not uncommon to get COVID-19 more than once. This is especially true if you're unvaccinated.
The highest percentage of reinfections are happening now, during the BA.5 wave. You can see from the chart that reinfections are happening more frequently.
"As new variants emerge, prior infection is having less and less of an impact on whether you'll be protected from COVID-19," explains Dr. Lawler. But vaccines appear to be protecting on a population level. Data shows that age groups more likely to have received two or three vaccine doses have lower rates of reinfections than groups who have not.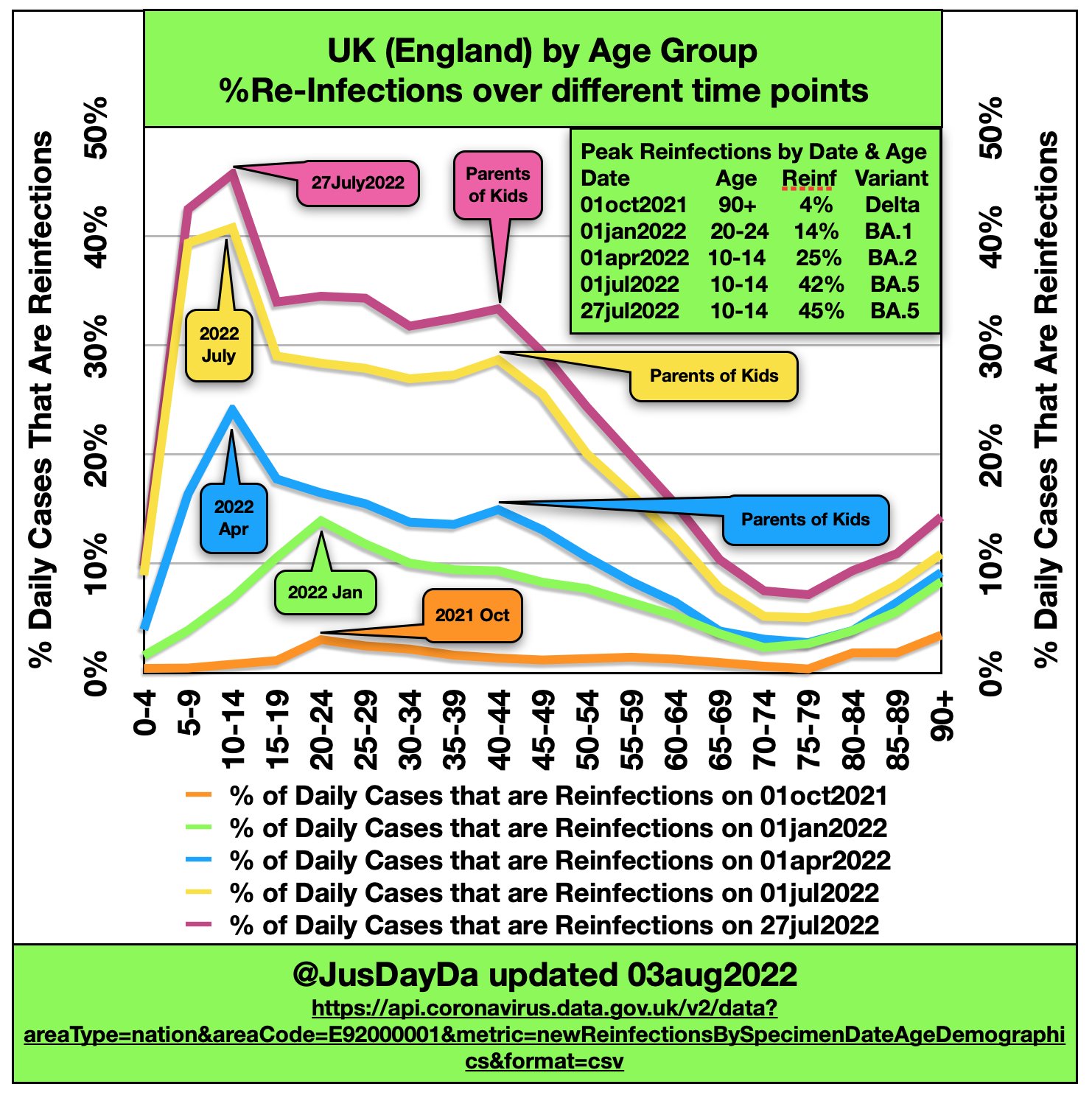 Reinfections are more common in U.K. school-age children, ages 5 to 14. More reinfections are happening currently with BA.5 (August 2022) than ever before. Source: @JusDayDa 
"If you look at earlier variants – like ancestral COVID-19, alpha, or delta – infection with a prior variant seemed to provide pretty good protection against reinfection," says Dr. Lawler. The reinfection rate with omicron was higher, and that rate increased with BA.2 and now BA.5. 
Reinfections are highest in school-age kids. In kids ages 5 to 15, about 45% of the cases in that age group are reinfections in the U.K.
"Whatever the next variant is going to be, it looks like our reinfection rates are going to be much higher, particularly in children," says Dr. Lawler. "The key to preventing this is to get as many people up to date with their vaccines as possible. The second thing is to make interventions that reduce community transmission, focusing on schools and young people."
What to expect as school starts
"At this point, almost everybody ages 0 to 17 has been infected at least once," says Dr. Lawler. About 80% of children show evidence of past COVID-19 infection based upon antibody testing, also known as seroprevalence. Once you consider a proportion of children who never developed antibodies from their infection or have antibody levels fade to an undetectable level over time, these data suggest that almost all US children have had COVID-19 at some time.
If nearly all kids have been infected, does that mean we have a "wall of immunity"? Will COVID-19 not be an issue this coming school year? No. Even though nearly all children have been infected before, they are still getting COVID-19 and going to the hospital at high rates.
The second highest wave of COVID-19 hospitalizations in children is happening now. "The fact is, in younger populations we're seeing more hospitalizations now than we've seen in any other wave except omicron," says Dr. Lawler.
So why are so many children in the hospital for COVID-19? 
Typically, it's the young people that drive transmission in the community. "Children are more prone to getting infected and more prone to spreading infection to others," says Dr. Lawler.
"Kids and school-age children are much less likely to be tested, even if they have symptoms," says Dr. Lawler. 
When kids get infected, vaccination keeps them out of the hospital. When omicron dominated, COVID-19 hospitalizations in unvaccinated children were twice as high as in vaccinated children. Many experts think that vaccines may also reduce the chances of developing long COVID. A recent analysis of multiple studies concluded that roughly 25% of children go on to develop some symptoms of long COVID after infection.
 
 
When omicron dominated, COVID-19 hospitalizations in unvaccinated children were twice as high as vaccinated children. Source: CDC MMWR
Booster now or booster in the fall?
Some may be waiting for the omicron-specific boosters, expected this fall. But it makes more sense to get a booster now, especially because Nebraska currently has high levels of transmission. 
"Getting that protection now is meaningful. We don't have a guarantee of when these BA.5-specific vaccines will come out and who will be eligible," says Dr. Lawler. For example, there may be only enough bivalent (Wuhan + BA.5 strains) vaccines at first for those who are at higher risk, like people age 65 and up.
What does up to date mean?
Up to date means you've had all COVID-19 vaccines and boosters that you're eligible for.
Everyone ages 5 years and older should get a booster after their primary series.
Second boosters are recommended for:
Adults age 50 and older
Some people who are immunocompromised, usually ages 12 and older
Find out when to get a booster from the Centers for Disease Control and Prevention's interactive tool, based on your age and which primary series you had.
Will COVID get worse or better?
"As the current BA.5 wave continues in the U.S. we can expect an increasing number of hospitalizations and deaths in the U.S.," says Dr. Lawler. "Unfortunately, we are far from exiting the pandemic."
BA.5 is more transmissible than previous variants
Our rates of boosters (third doses) are lower compared to the rest of the world, meaning we are less protected
Many U.S. children have not been vaccinated for COVID-19, and reinfections are highest in school-age children
We have far fewer Americans who have had a dose of COVID-19 vaccine in the last 6 months than we did going into last fall. We may be more vulnerable than we were a year ago
See Dr. Lawler explain why cases and deaths will likely increase this fall.
4 back to school safety tips
Get your child vaccinated for flu and COVID-19. Everyone 5 and up should get a booster, too
Have your child to wear a mask to school and encourage schools to promote universal masking in school
Test your child if they have any symptoms of COVID-19 or if they had close contact with a confirmed case
Ask your school about classroom air quality, including improved ventilation and HEPA filtering