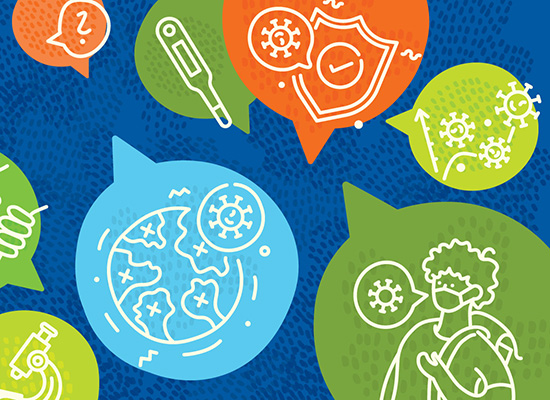 You've asked us several anonymous questions about rapid tests. Here Scott Koepsell, MD, PhD, the medical director of the University of Nebraska Medical Center main testing lab, explains what rapid tests are and how they work.
1. What is a rapid test?
Rapid tests detect antigens, which are pieces of proteins of the coronavirus. Rapid tests aren't as sensitive as PCR tests. But a rapid test is much faster – results can be available in as little as 20 minutes. PCR tests, which detect the coronavirus' genetic material, take longer to process because the sample must be taken to a lab to amplify the genetic material. Rapid testing is point-of-care testing, meaning it can be done in various settings without lab analysis. Home tests are almost always rapid tests.
2. Are rapid tests available for individuals?
Not currently through Nebraska Medicine. Our teaching partner UNMC is offering rapid testing for groups – like the Huskers – but not on an individual basis. Dr. Koepsell says, "We partner with different groups who want to do the antigen testing as part of a surveillance protocol on a contract basis." 
Small businesses, music groups, local sports teams and other interested groups can reach out to Kirk Hansen, Director of Regional Pathology Services at 402.559.7926 or kirk.hansen@unmc.edu for more information.
3. How frequently are people in the contracted group tested?
UNMC develops a plan for the best way to do testing to keep the group safe.
"The testing frequency depends on the individual risk assessment," says Dr. Koepsell. "If people are in each other's faces every day, we test more often." For the Huskers, Big Ten protocol requires rapid tests six times a week.
4. How sensitive is rapid testing?
Rapid testing is less sensitive than PCR. "If people have symptoms, rapid tests are reported to be 90% or more sensitive. If they don't have symptoms, we don't know how accurate the test is," says Dr. Koepsell. "But the way we get around that is by doing more frequent testing."
5. What's the difference between PCR tests and rapid tests?
Antigen tests detect viral particles, while PCR testing detects genetic materials. Antigen tests and PCR tests both use nasal swabs to collect the samples.
The PCR test is the gold standard for accuracy. Antigen tests are reasonably accurate in detecting someone who is already symptomatic. They are less reliable at ruling out an infection.
6.    How did UNMC choose their rapid test?
There's three types of rapid tests currently on the market: Quidel's Sofia 2, BD's Veritor and Abbott's BinaxNOW. We chose Quidel's tests based on availability and how well their tests work. 
7.    When should you take a rapid test?
For rapid tests, the test will be most accurate if you take it once you're symptomatic.
For PCR testing, you should wait 72 hours after exposure to take the test.
8.    When will rapid tests be more widely available?
The testing companies are seeking licenses to distribute tests more widely. Once they're approved, the rapid tests will be more readily available.