Physician Career Opportunities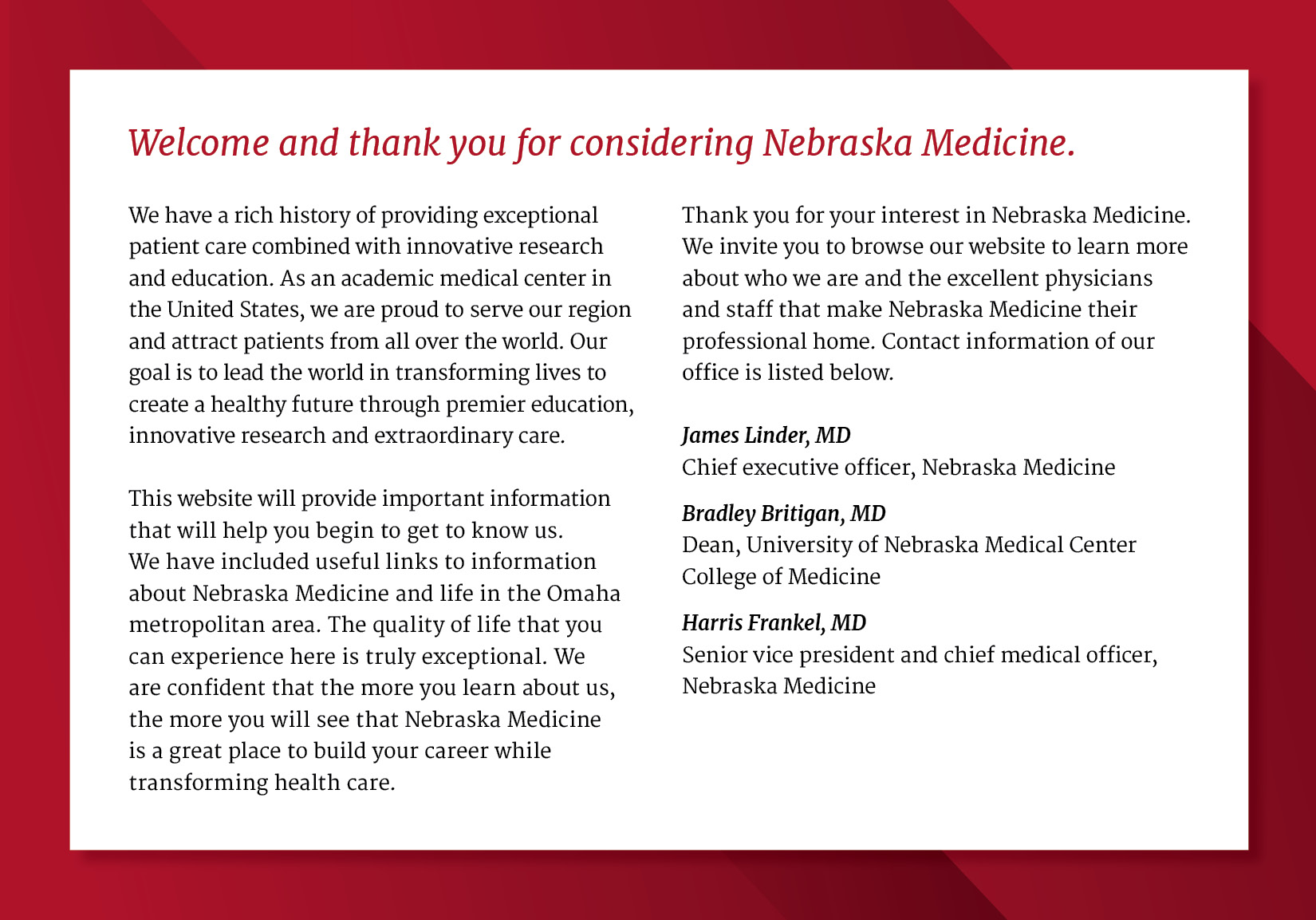 Nebraska Medicine Offers Physicians Exceptional Career Opportunities
Want to talk to someone first? Explore the opportunities for Nebraska Medicine physicians by contacting us at 402.559.5495 or via email providerrecruiting@nebraskamed.com.
---
Why Join More than 1,000 Physicians?
As the leading academic health system in the region, Nebraska Medicine and University of Nebraska Medical Center (UNMC) have built a worldwide reputation for premier educational programs, innovative research and extraordinary patient care.
 
Extraordinary patient care
Nebraska Medicine provides care to patients in two hospitals and more than three dozen ambulatory clinics. See a list of our locations
The Nebraska Medicine Biocontainment Unit is one of three units in the United States treating patients with COVID-19, Ebola and other infectious diseases
The region's only 24/7 nationally certified Level 1 Trauma Center and the state's largest hospital
Awarded best in state by U.S. News & World Report for several years, one of the 100 greatest hospitals in America by Becker's Hospital Review and included in Forbes best in state employers. Also recognized by the Human Right's Campaign as an "LGBTQ Health Care Equality Leader"
Premier educational programs
Nebraska Medicine is the primary research and education partner of the University of Nebraska Medical Center. We offer our patients access to the state's physician educators, the opportunity to participate in cutting-edge research trials and comprehensive care. Many of our physicians offer lifesaving treatments and services not found elsewhere in the Midwest
In the most recent ranking of graduate schools by U.S. News & World Report, the University of Nebraska Medical Center Primary Care Program ranked 6th of 170 medical schools 
Nearly half of all practicing physicians in the state of Nebraska were trained at UNMC
Innovative research
International reputation for treatment, training and quarantine methods for COVID-19
In 2020-2021, the University of Nebraska Medical Center received more than $174.2 million in research grants. We house more than 1 million square feet of laboratory space on campus for research
The University of Nebraska Medical Center is the professional and scientific home of researchers who work at the forefront of fields such as transplant medicine, cancer, neurodevelopment and genomics
Additional information