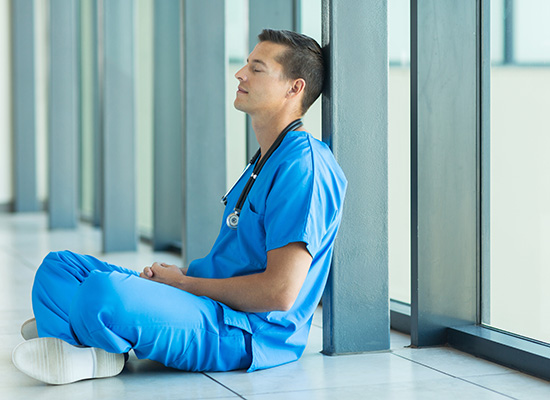 Most nurses agree that they didn't choose a nursing career because they thought it would be easy. Many say they chose nursing for the personal satisfaction it provides and it's that sense of fulfillment that keeps them going.
According to a 2017 survey on registered nurses from AMN Healthcare, approximately 83% of nurses feel satisfied with their nursing careers. In addition, two-thirds of those nurses also said they would encourage others to pursue a career in nursing.
These Nebraska Medicine nurses share their thoughts about what keeps them happy in their jobs
Connecting with patients and making a difference
For many, a career in nursing is all about the patient and helping others during some of the most difficult times in their lives. Some have even referred to it as a "calling."
Amber Seidl, BSN, RN, case manager in Plastic and Reconstructive Surgery, says she has always felt a calling to care for others. During college, she nannied for triplets. Later, when she became a care tech and loved it, she knew nursing was for her. "It's all about caring for patients and their families," she says. "You've got to love it."  
"Nursing is very satisfying because at the end of the day, no matter how hard your day has been, you know you're helping others in a special time of need," says Katy Donner, BSN, RN, case manager in Plastic and Reconstructive Surgery at Village Pointe Health Center.
Tiffany Whitney, BSN, RN-BC, nurse supervisor in the Medical-Surgical Unit at Bellevue Medical Center, agrees. "As long as you feel like you're making a difference in a patient's life, that makes it all worthwhile. Your heart has to be in it. It's little things, like walking into a patient's room and seeing them smile at you. Or when you haven't seen them for a while, and they still remember you. Then you know you've had an impact." 
Positive work environment
The culture in your work environment can play a big role in your satisfaction. "When you're in an environment where you really enjoy your providers and co-workers, it really makes a difference," says Donner. In her current role, Donner says "everyone takes accountability and does what needs to be done. You can tell that we all want to be here, and we all have patient satisfaction in mind and that makes for a very positive work environment." 
A work environment that promotes positive feedback is also important. "Even after a long 12- or 14-hour day, having someone acknowledge your hard work can make all the difference in the world," notes Donner. "When you feel appreciated – that's what helps keep you going." 
Ability to work in a variety of settings
Whether it's working in the hospital, a clinic or nursing college, nurses agree that the ability to move around and work in a variety of settings and/or specialty areas helps prevent burnout and keeps their jobs more interesting. 
Seidl, who has worked in the Burn and Wound Unit, the operating room and Orthopaedics before landing in the Plastic and Reconstructive Surgery clinic, says that the ability to move to different areas of the hospital depending on your interest and stage of life is a big plus in nursing. Also being able to customize your schedule to fit your personal and family needs is another valuable aspect of nursing.
"I really enjoyed working in the Burn Unit and OR, but when my two young children started school, I needed more stability and flexibility," she says. "Working in the clinic gives me both the stability and flexibility I need to be there for my kids."
Whitney, who loves to be challenged, says her multi-faceted career in nursing has exposed her to multiple areas of nursing and has kept her career interesting and exciting. 
Whitney started her career as a float nurse where she worked in multiple areas of the hospital. 
The adaptability required to work as a float nurse prepared Whitney for transitioning into a career as a travel nurse – a job that entails being able to step into new situations and learn on the fly. "The fast-paced nature of these jobs gave me the skills to be an expert multitasker and critical thinker and learn how to prioritize better," Whitney says. "This has been invaluable in helping me in my job today as a nurse supervisor where multiple things are happening at all times."
Before becoming a nurse supervisor, Whitney served as a professional development specialist, which entailed providing education to staff and developing continuing education programs. "This opened a whole new world to me," says Whitney, who now says one of her goals is to pursue a master's or doctorate degree to become a nurse practitioner or potentially go into teaching or research. "I love that nursing has so many opportunities for different types of careers and advancement opportunities as your interests grow and change throughout life." 
Finding your niche
Finding your niche – the area that you really feel comfortable in and passionate about, can make your nursing career significantly more rewarding. 
Jennifer Rounds, DNP, APRN, an advanced lung disease nurse practitioner, encourages new nurses to move around to find their niche. "Keep your eyes open and don't be afraid to try something new. You just don't know where it's going to take you."
Many nurses find their niche by accident. "I had no idea I'd love working with cystic fibrosis (CF) patients," says Rounds. After working in the Pediatric Intensive Care Unit (PICU) for several years, the CF department had an opening so Rounds decided to give it a try. She immediately discovered that she had found her niche in nursing. After completing her Doctor of Nursing Practice degree, she was thrilled to learn that the CF team was looking for an additional nurse practitioner, allowing her to return to an area she loved. This role has also allowed her to learn more about lung transplant, another very satisfying role, she says.
If you have the opportunity, Whitney suggests starting your career as a float nurse or in an area that exposes you to patients in multiple specialty areas like a medical-surgical or a step-down unit. "It will teach you how to critically think in different types of specialties," she says. "It may also help you find your niche more quickly. I always thought I wanted to work in cardiology, but I discovered when I worked in that area as a float nurse, it wasn't exciting enough for me." 
Professional growth and advancement
Professional growth and advancement opportunities are rewarding aspects of the job that bring satisfaction to many nurses. 
Michelle Schulte, MSN, RN-BC, ambulatory supervisor for the Dermatology clinic, who completed her Master of Science in Nursing (MSN) degree several years ago, says she has always had a thirst for advancing her knowledge and education. Completing her MSN has been one of the most significant accomplishments in her life, she says. 
"What you learn through this degree elevates you as a nurse," says Schulte. It also positioned her to move into a supervisory position. "I've always aspired to be a great nurse leader and getting my master's degree has given me the tools to be a stronger leader and a more critical thinker."
After practicing for about 15 years, Rounds decided to go back to school and complete her doctorate degree. "I love the larger role in patient care I have now as an advanced nurse practitioner," she says. "My additional education allows me to review research and collaborate with team members on a higher level. I'm more involved in evaluating best practice guidelines and applying them to patient care and treatment plans. That's very rewarding and satisfying to me."
Eventually, Rounds says she would like to work in an academic setting. "I've always known that eventually I want to teach and a doctorate degree would allow me to do that. I love the fact that nursing is a profession that allows you to do a multitude of things and to grow professionally in your career. You can pick and choose what works best for your current stage in life." 
Seidl agrees. "I started as a staff nurse and now I'm a case manager. "I feel like I'm in a good place right now, but I know there are opportunities to move up in the future if I desire to move into management. It's something I can look forward to."