Since 1995, the one-day biennial Breastfeeding: Baby's Natural Choice Conference has been offered to healthcare professionals, nurses, lactation consultants, registered dietitians, residents, physician assistants, nurse practitioners, nurse midwives, breastfeeding advocates, social workers, and students. The conference focuses on the importance of a supportive environment for the promotion of breastfeeding, as well as general education on breastfeeding. Continuing education is offered.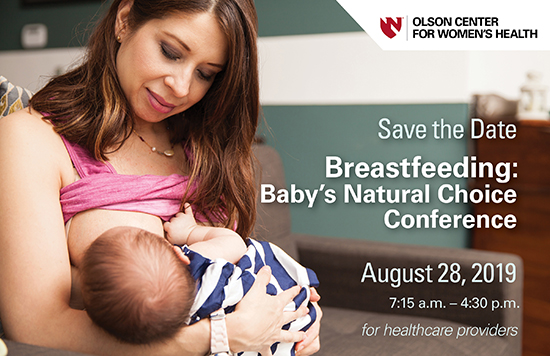 The next conference will be held on Aug. 28, 2019 at the Embassy Suites Omaha - La Vista Hotel & Conference Center, 12520 Westport Parkway, La Vista, NE.

Keynote Presenters: Jarold (Tom) Johnston, DNP, CNM, IBCLC of Fayetteville, NC and
Catherine Watson Genna, BS, IBCLC of Woodhaven, NY.
This event is sponsored by the Olson Center for Women's Health and the University of Nebraska Medical Center in cooperation with the UNMC College of Nursing and the UNMC Center for Continuing Education.
If you are interested in being a sponsor of the 2019 conference, email noelle.blood@unmc.edu.
Sign up for our breastfeeding mailing list to receive conference information, updates, and other breastfeeding resources.
Olson Women's Health Resource Center
Phone: 402.559.6345
Email: ljmolczy@unmc.edu