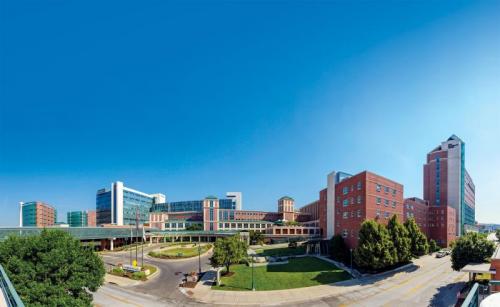 Omaha, Neb -  Nebraska Medicine – Nebraska Medical Center is among some elite company in Newsweek's first-ever World's Best Hospitals 2019 ranking, checking in at number 56 on the list. The World's Best Hospitals is based on a number of factors, including results from patient surveys, publicly available hospital performance data and responses to an online survey sent to almost 40,000 health care professionals.
Nebraska Medical Center joins other hospitals like Mayo Clinic, Cleveland Clinic and Massachusetts General on the list, which includes 226 of the best hospitals in the United States.
Nebraska Medical Center is the only hospital in Nebraska to be ranked in the top 150.
"We understand that our patients have a choice for medical care," said James Linder, MD, CEO of Nebraska Medicine. "Being named to a list like this should confirm to our current patients that they're in extremely capable hands, while at the same time, it should demonstrate to others living in the region what a great resource they have right in their own backyard."
Dr. Linder added, "Our most valuable asset is the health care professionals we have providing extraordinary care to our patients each and every day. This recognition should also signal to them that the work they're doing is being recognized and among the best available anywhere."
Newsweek ranked hospitals in 11 countries including the U.S., Canada, Germany, France, United Kingdom, Switzerland, South Korea, Japan, Singapore, Australia and Israel.
You can see the entire list here: https://www.newsweek.com/best-hospitals-2019/united-states.