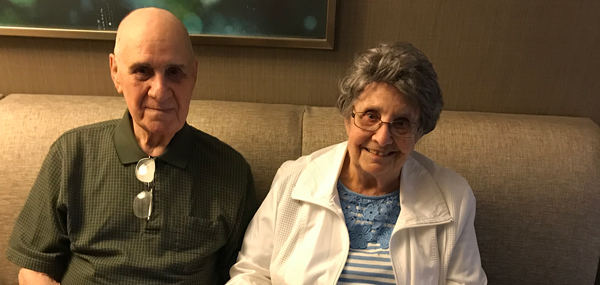 After Paul Bashus developed macular degeneration in both his eyes, it seemed that his eyesight began to progressively decline over the next 10 years ago, despite surgery. Eventually, he couldn't see well enough to drive and was declared legally blind. 
"Losing my eyesight was very difficult," says Paul, who is now 90. "When you can't drive, you can't go anywhere or do anything so I had to give up a lot of the things I like doing like golfing and meeting friends to go out to dinner. I couldn't see the TV unless I was a foot or two away or see well enough to cook, write a check or read the newspaper."  
"Paul was really becoming frustrated," says his wife Cathleen, whose vision had also become too poor to drive.   
But things began to change when Paul found the Weigel Williamson Center. He scheduled an appointment for an evaluation. His eyes were 20/400 and 20/300, which means what a normal person could see from 400 feet away, Paul would need to be within 20 feet to see. 
"Like many patients who see us, Paul had irreversible vision loss for which conventional glasses could not help him see well enough to participate in daily activities," says John Shepherd, MD, director of the Weigel Williamson Center for Visual Rehabilitation. "We try to help patients obtain the appropriate low vision devices that will enhance their vision and allow them to engage in the activities they enjoy most."
The staff at the Weigel Williamson Center connected him to the Veterans Administration and helped him get access to low vision devices like high powered electronic magnifiers, text readers and other devices that allowed him to read again, look at old memorabilia and function more normally at home. A friend also gave him a desktop electronic magnifier that helped him with answering his mail and paying bills but the magnification was so large, he could only read a few words at a time. It was very fatiguing. The staff at the Weigel Williamson Center helped him replace it with an optical character recognition reader which reads the text back to him. 
"It was a lifesaver," says Paul. "I felt like I was getting some of my life back again."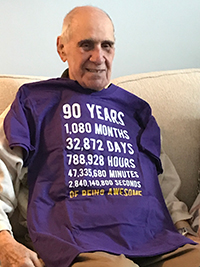 Stacy Thoene, OTD, ORT/L, an occupational therapist with the low vision rehabilitation team at Weigel Williamson Center, came over several times to teach Paul how to use the new devices. She also helped implement home adaptations such as marking oven dials and appliances with brightly colored, raised dots, improving lighting and reducing glare from windows to help them function better at home with everyday tasks of living. 
"When we see people like Paul, many have lost all hope," says Thoene. "Our goal is to provide them with the tools to help them become more independent again. It's about returning their quality of life. We start by asking them, 'what is most important for you to get back,' and then we go from there."
It was like a new world opening up, says Paul. "Without the Weigel Williamson Center, I wouldn't be able to do anything anymore. I didn't know all of these things were available. They helped me with all kinds of resources and showed Cathleen and me how to function better in the kitchen and around the house."
Paul is soon to receive new virtual reality glasses, which will allow him to view things up close and at a distance more clearly. 
In appreciation for their help, Paul recently donated his original desktop electronic magnifier and several other low vision devices to the center. "I wanted to make them available to help someone else like they helped me," he says. "I have a very high regard for everyone at the center. They helped me regain part of my life again that I had lost." 
"We are very thankful for his donation," says Thoene. "Insurance doesn't cover these devices. These donated items will make all the difference in the world for someone who can't afford them. They will provide hope and quality of life for others."