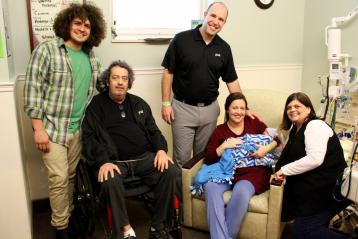 For the Sauvageau family, "Serious Medicine. Extraordinary Care." isn't just a slogan. They've witnessed it time and time again at Nebraska Medicine.  
On January 24, 2016, Phil Sauvageau received the first lung transplant with Nebraska Medicine's reignited program. For years, Phil struggled with idiopathic pulmonary fibrosis (IPF), a disease that causes scarring of the lungs, often resulting in respiratory failure. Because there is no cure for IPF, Phil's only option for survival was a lung transplant.
"The surgery went very smoothly with no significant complications," says Aleem Siddique, MD, surgical director of lung transplantation. "It was a very exciting time for Phil."
A few months after receiving his transplant, Phil walked his daughter Michelle down the aisle at her April wedding. 
"My dad also sang me a beautiful song that he wrote, and we had that special father-daughter dance I'd always dreamed of," says Michelle Gleason. "I'm so thankful to the family that donated life to my dad and the amazing doctors, nurses and staff at Nebraska Medicine."
Little did Michelle know at the time, but she'd soon be the one in need of medical care. One week after celebrating their first wedding anniversary, Michelle and her husband Eric were preparing for the birth of their son - two months earlier than planned.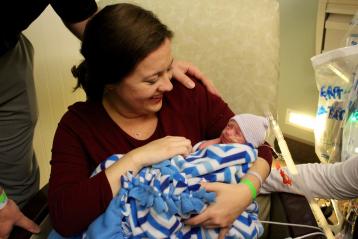 Nebraska Medicine OB/GYN Sonja Kinney, MD, diagnosed Michelle with preeclampsia, a pregnancy complication characterized by high blood pressure. Michelle was on bed rest for nearly a week before Nebraska Medicine OB/GYN Laura Cudzilo-Kelsey, MD, performed an emergency c-section on April 23. Banner Gleason weighed 2 pounds, 8 ounces and was rushed to the Newborn Intensive Care Unit (NICU).
"NICU medical director Ann Anderson Berry, MD, talked us through the whole thing," says Michelle. "Everyone in the NICU has been wonderful - especially the nurses. We watched my dad receive the best care during his lung transplant, so it's no surprise that Banner and I are receiving the same extraordinary care."
On May 1, Banner received a special visit in the NICU from Grandpa Phil and Grandma Emily. 
"Nebraska Medicine has done so much for our family," says Phil. "They've become our second family. From the transplant team to the NICU, we are very grateful."
As long as Banner continues to gain weight, Michelle and Eric are hopeful they can take him home by early June. 
Update: Sadly, Phil passed away in July of 2017 from complications of ALS (Lou Gehrig's Disease). He will be missed be all who knew him at Nebraska Medicine.