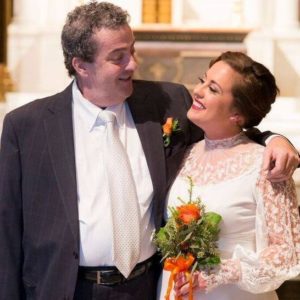 One year ago today…
November 3, 2015, was hard and scary. Not knowing if my dad would be at my wedding in April, he asked if he could walk me down the aisle and give me to my fiancé Eric – just in case.
I wasn't ready to accept the fact that he might not be at our wedding, but I swallowed my pride and thought of it as practice. In 48 hours we set up a beautiful evening with my mom, sisters and brother. I surprised my dad by wearing my mom's wedding dress. We invited my dear friend Wendy to photograph and Dundee Digital to film. Our priest opened the church just for us, and an organist – who just happened to be there – played.
We took our slow, sweet walk down the aisle to my future husband. We all prayed together and took in this special moment. Time stood still.
On our way home, we saw the longest shooting star we'd ever witnessed. It lasted so long we all saw it from our separate vehicles.
At this time last year, my dad was dependent on oxygen and walking was a struggle. He had been deferred from a few transplant lists and we were all praying for a miracle. At this time, Nebraska Medicine wasn't performing lung transplants (just yet) and we had no idea what was to come.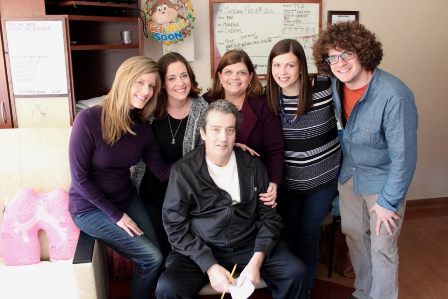 Fast forward to January 2016. Nebraska Medicine's lung transplant program was ready to go. My dad was placed on the transplant waiting list and 48 hours later, he got the call.
It turns out, our walk in November was just practice. My dad walked me down the aisle in April, sang me a beautiful song that he wrote, and we had that special father-daughter dance I'd always dreamed of.
This has been one hell of a year and I'm so proud of my dad, my family and everything we've overcome. I'm forever thankful to the family that donated life to my dad and the amazing doctors, nurses and staff at Nebraska Medicine.
Update: Sadly, Phil passed away in July of 2017 from complications of ALS (Lou Gehrig's Disease). He will be missed be all who knew him at Nebraska Medicine.