Excellence Award from Vizient, Inc. for Quality Leadership Performance
Nebraska Medical Center is again honored to announce its recognition by Vizient, Inc., as a recipient of the 2017 Bernard A. Birnbaum, MD, Quality Leadership Award. The award recognizes Nebraska Medical Center for demonstrating superior quality and safety performance among more than 100 academic medical centers taking part in Vizient's Quality and Accountability Study. Only twelve academic medical centers in the United States were recognized this year. Nebraska Medical Center is ranked eleventh and is the only health system in the region to earn this recognition.
"At Nebraska Medicine, the safety of our patients and the quality of care we provide to them comes above everything else," says CEO Dan DeBehnke, MD, MBA. "To be recognized for something this important and for something we're continually trying to improve upon validates the effort we've been making. Everyone who works here should be extremely proud of this honor, especially earning it for a second straight year."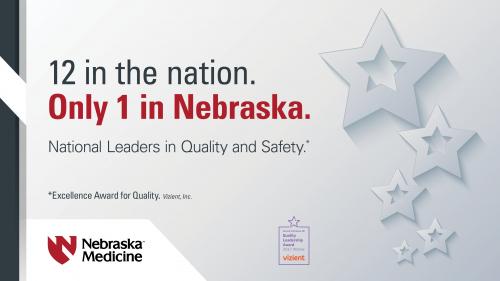 This year, 107 academic medical centers and 161 community hospitals were included in the study. The study measured performance based on the Institute of Medicine's six domains of care: safety, timeliness, effectiveness, efficiency, equity and patient centeredness. The composite scoring system uses patient-level performance data from a variety of sources, including the Vizient Clinical Data Base, the Vizient Core Measures Data Base, the Hospital Consumer Assessment of Healthcare Providers and Systems (HCAHPS) survey, and the Centers for Disease Control and Prevention's National Healthcare Safety Network.
Nebraska Medicine – Bellevue also earned a spot on the community hospitals list, checking in at twelfth.
"The entire Nebraska Medicine system strives to provide our patients with the highest quality, safest, most efficient and compassionate care available," says Michael Ash, MD, chief transformation officer. "Earning this Vizient Quality Leadership Award alongside other elite national academic medical centers shows just how devoted everyone who works here is to providing serious medicine and extraordinary care every day."
Here is the list of academic medical centers honored with the 2017 Bernard A. Birnbaum, MD, Quality Leadership Award:
Mayo Clinic Hospital – Rochester
NYU Langone Health
Froedtert & the Medical College of Wisconsin- Froedtert Hospital
Rush University Medical Center
Penn State Health Milton S. Hershey Medical Center
University of Utah Health
UCHealth University of Colorado Hospital
Lehigh Valley Health Network
University of Texas Medical Branch at Galveston
The University of Kansas Hospital
Nebraska Medicine
Oregon Health & Science University Hospital (OHSU)