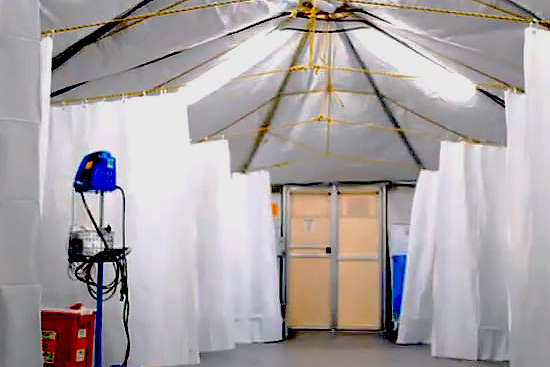 Nebraska Medicine has led the world in treatment, training and quarantine methods for highly infectious diseases for years. As a health care system, we've done all we can to prepare for an increase in COVID-19 patients. The rest is up to the community.
How everyone chooses to act in the next few weeks will determine if our hospitals become overwhelmed – or not. 
From decades of pandemic planning, here's how we've prepared for a surge of COVID-19 patients.
Pitching inflatable surge tents. We put up inflatable "ED surge" tents outside the Emergency Department at Nebraska Medical Center on Dewey Avenue. Each tent has electricity, internet, heat and air conditioning. Check out the below video for an inside look at the fully staffed, fully equipped tents.
Adding COVID-19 hospital beds. Nebraska Medicine has greatly increased our capacity to care for COVID-19 patients. We converted multiple building levels to negative airflow, meaning the air in the rooms will be recirculated to stay within those rooms.
"Relocating units is no small feat," says Julie Lazure, vice president of Operations. "This is disruptive for our patients, their families and our staff, but it is the right thing to do to ensure we are prepared should our community depend on us."
Protecting patients and providers' health. To continue to protect our patients and colleagues, visitors are no longer allowed in any hospital or clinic setting. Restricting visitors will limit the spread of COVID-19, especially in a health care setting where vulnerable patients and frontline health care workers could be infected. Patients and their families are connecting through the Nebraska Medicine app instead.
Stay home to flatten the curve
Nebraska has done a good job, and our case rate isn't as high as some other areas. But now is not the time to let our guard down. It will soon become evident if our community has done enough to limit the spread of the coronavirus.
"The steps we take now, as individuals, will determine if local hospitals have enough room for COVID-19 patients and other patients," says Shelly Schwedhelm, executive director of Emergency Management and Biopreparedness. "We're as prepared as we can be, but we really need your help in continuing to flatten the curve."
For years, Nebraska Medicine pandemic experts have prepared for any number of potential worldwide infectious diseases. We are here for you. Thank you to everyone who has helped by flattening the curve.